The Department of Meteorology (DOM) of the Ministry of Water Resource and Meteorology (MOWRAM) convened the 7th Monsoon Forum on 3 June 2019 in Phnom Penh, with funding support from the United Nations Development Programme (UNDP). The Forum brought together 58 participants from DOM, Department of Hydrology and River Works (DHRW), National Committee for Disaster Management (NCDM), General Directorate for Agriculture (GDA), Fisheries Administration, Ministry of Education, Climate Change Department, rural development partners, international organizations, development partners, and local NGOs. A dialogue platform among generators and users of forecast and warning information, the Forum issued the climate outlook for the southwest monsoon season, evaluated potential climate impacts/ opportunities in participating sectors, identified corresponding risk management strategies, and received recommendations for making forecasts and warnings relevant to users' planning and decision-making processes. The Forum also reviewed actions in response to recommendations from the last Forum.

Participants of the 7th Monsoon Forum-Cambodia, 3 June 2019, Phnom Penh. H.E. Mao Hak, Deputy Secretary-General, Tonle Sap Authority, MOWRAM (front row, 7th from left) and Mr. Nick Beresford, UNDP Resident Representative -Cambodia (front row, 6th from left) graced the opening session of the Forum.
DOM predicted that, with persistence of El Niño conditions, below-normal rainfall shall be expected in most parts of the country for the June-July-August period, except in Siem Reap, Kampong Chhnang, and Stung Treng, where above-normal rainfall would be expected (Figure 1). Air temperature is also expected to be warmer than normal, and frequency of thunderstorms is also expected to be higher than the average. DOM cautioned the agriculture and water resources sectors to anticipate dry spell and flood/ flash flood events, the health sector on warmer conditions and potential flood events, and all other sectors on severe weather events.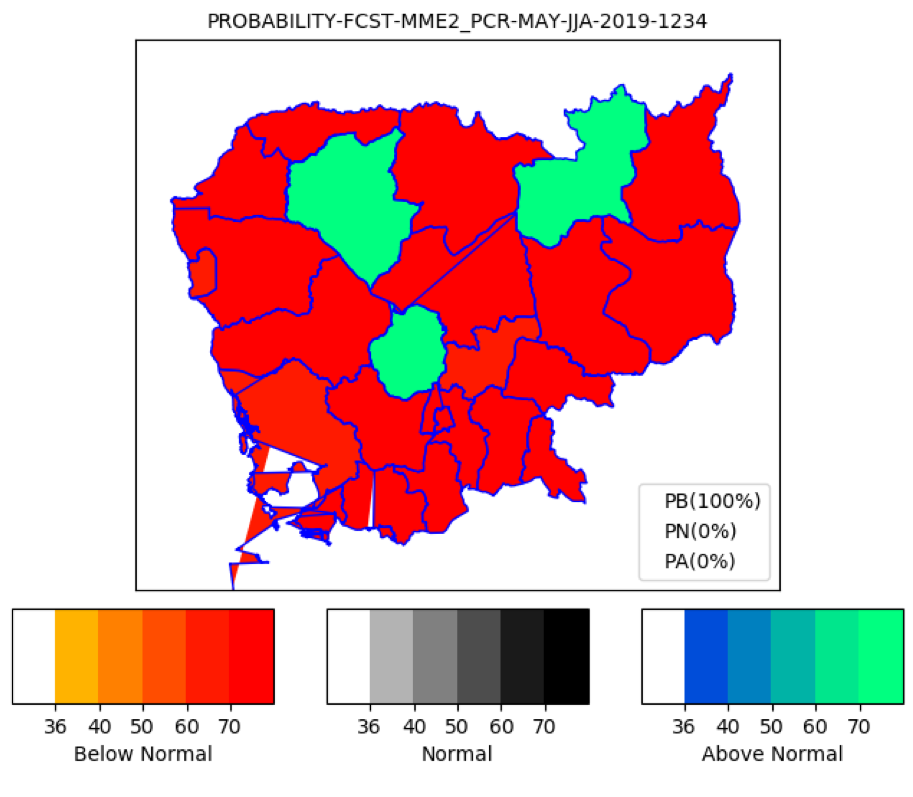 Figure 1. Rainfall outlook for June-July-August 2019
Group discussions on the predicted climate's potential impacts on the sectors generated more requests for information, to enable more-informed preparedness planning. These included:
Forecast products of shorter timescales to complement the seasonal outlook
Forecast products at finer spatial resolutions
Potential rainfall amount and number of rainy days during the season
Humidity and flood potential, for prediction of dengue and malaria outbreaks and other health hazards
Drought and flood hazard mapping and monitoring
Underground water level mapping
Key recommendations from the Forum included:
Release of seasonal climate outlook in time with the "Flower Ceremony", a source of traditional forecast for farm operations
Seasonal climate outlook to include monsoon onset date, average rainfall quantities, number of rainfall days, and a section that describes monsoon characteristics for Cambodia
Forecast products based on climatic zones, not administrative boundaries
Regular schedule for issue of forecast updates
Mobile application to improve access to DOM forecast products and services
Feedback mechanism (in addition Facebook) for receiving and acting on feedback, requests, and suggestions from users at various levels
Delineation of responsibilities of agencies mandated to generate and disseminate forecasts and warnings
Capacity development of users to access, understand, and use forecast information
Enhanced coordination among DOM and user agencies, particularly DHRW, dam/ reservoir operators, and other agencies for water resource management
Solid research on the impact of ENSO and other regional climate drivers on Cambodia's climate, for enhanced analysis and forecasting of monthly and seasonal outlooks
DOM updated the Forum on its ongoing initiatives for meeting user demands and in view of the above recommendations, as follows:
Monthly and seasonal climate outlook updates shall be provided every end of the month
DOM is working with RIMES and UNDP in improving forecast resolution, lead time, and reliability through improvements in observation network, training on forecasting and forecast verification, and other capacity development activities
DOM is currently collaborating with GDA, with support from RIMES and UNDP, on translating forecasts into potential impact information, to aid planning and decision-making in the agriculture sector
The Forum was followed on 4 June 2019 by a participatory assessment of the early warning system in Cambodia, to inform capacity development programming.
Related information about the event may be found from https://www.adaptation-undp.org/climate-ready-monsoon-forums-focus-elevating-seasonal-forecasting-and-preparedness-cambodia