Image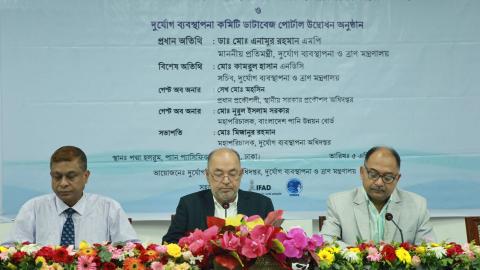 Every year, Bangladesh is ravaged by devastating floods that are becoming more frequent and severe due to climate change and multiple other factors. The floods cause immense harm to people's lives, livelihoods, properties, and agricultural production. 
In this context, a workshop on the annual progress of the project titled 'Development of Local Flood Early Warning and Dissemination System' was held in Dhaka, Bangladesh today. This component of the PROVATi project, financially supported by International Fund for Agricultural Development (IFAD) and technically supported by RIMES aims to reduce damages and casualties through improved flood early warning system. 
The workshop was presided over by State Minister of Disaster Management and Relief Ministry Dr. Md. Enamur Rahman MP (Chief Guest) and Director General Department of Disaster Management Md. Mijanur Rahman. Other eminent guests included Ministry of Disaster Management and Relief (MoDMR) Secretary Md. Kamrul Hasan NDC, Guest of Honor Additional Director General at Bangladesh Water Development Board (BWDB) Mr. Amirul Haq Bhuiyan and Local Government Engineering Department (LGED) Chief Engineer Sk. Md. Mohsin. Besides this, representatives of various national and international organizations including Directorate of Local Government Engineering, Directorate of Meteorology, Bangladesh Water Development Board (BWDB), development partner International Fund for Agricultural Development (IFAD) participated in the workshop.
Image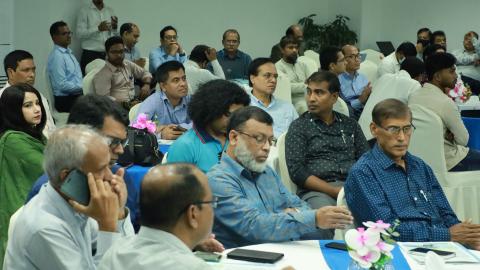 At the program, progress made through the project on local flood early warning and dissemination system was discussed. This included updates related to completion of the baseline survey, project activity progression and  inauguration of development of an online database portal of Disaster Management Committee for dissemination of vital early warning information in all districts, unions and wards of Bangladesh. 
Chief guest State Minister Dr. Md. Enamur Rahman, said that the program will play a crucial role in reducing the loss of lives and properties of the flood-vulnerable areas and contribute to capacity development of the local communities for enhanced disaster risk reduction. He thanked IFAD and development partners for providing assistance in this process and emphasized on integrated efforts to achieve the sustainable development goals together. 
Meanwhile, chairperson Md. Kamrul Hasan NDC, in his speech, emphasized on disseminating flood early warnings to the people in an easy-to-understand language. Similarly, Mr. Md. Mijanur Rahman, DG Department of Disaster Management (DDM) said that flood inundation maps of the vulnerable areas through drone survey will make flood forecasting more effective. Guest of Honor, BWDB Additional Director General, Mr. Amirul Haq Bhuiyan emphasized on integrated activities for the implementation of this project and assured cooperation from the FFWC-BWDB. Likewise, Mr. Netai Chandra Dey Sarker, Project Coordinator of PROVATi Project-DDM Component, delivered the welcome speech of the workshop and presented a short overview of the project's accomplishments. He also thanked all the participants for attending the workshop.
The Promoting Resilience of Vulnerable Through Access to Infrastructure, Improved Skills and Information (PROVATi) project is being implemented with support from IFAD under the lead agency LGED. This component under the Department of Disaster Management (DDM) aims to reduce disaster risks and save lives and livelihoods in vulnerable areas from floods and natural disasters through dissemination of flood early warning to the root level users. The initiative, which covers 19 upazilas of Kurigram, Gaibandha and Jamalpur in the northern region of Bangladesh, is being implemented with technical support from RIMES.
Image