Port Moresby, Papua New Guinea, 23 August 2017. National meteorological, hydrological, and geological services of forty-two countries from Africa, Asia, and the Pacific are meeting today and tomorrow to share and learn from experiences on building user-focused multi-hazard early warning systems, toward community resilience to natural hazards and sustaining development gains. This 9th Meeting of the RIMES Council also marks a momentous leap in RIMES institutional development, with creation of the first RIMES Sub-Regional Hub, hosted by Papua New Guinea, to serve the Pacific Region.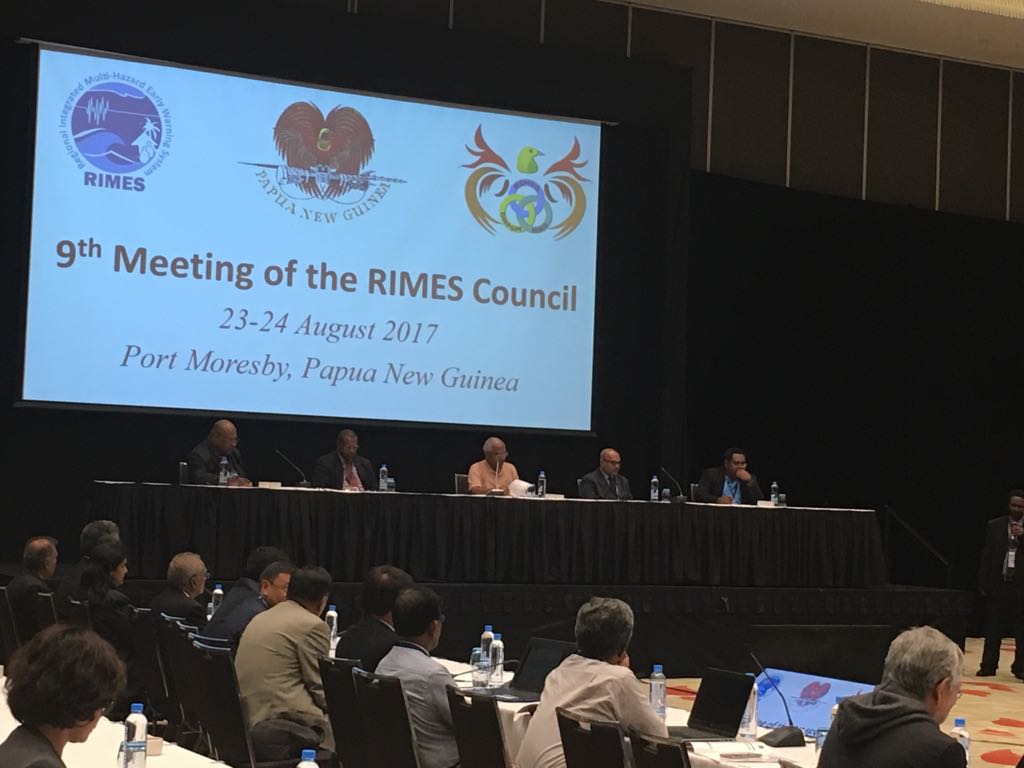 RIMES, which stands for the Regional Integrated Multi-Hazard Early Warning System, is a collaboration of countries in Africa, Asia, and the Pacific for building national capacities in generating and utilizing user-relevant science-based information for early warning of risks from natural hazards and for guiding resource management decisions and plans.
The idea of a RIMES sub-regional hub to decentralize RIMES services to more effectively serve the region was proposed by Papua New Guinea at the 7th Meeting of the RIMES Council in July 2015. The subsequent 2nd RIMES Ministerial Conference in 2015 considered such proposal and decided to pursue it. Consequently, Papua New Guinea's National Executive Council approved in August 2015 the country's hosting of the RIMES Sub-Regional Hub for the Pacific, and committed resources to establish the hub.
The sub-regional hub is envisioned as a national integrated multi-hazard early warning system that also serves the region as RIMES Sub-Regional Hub. Thus, on 13 October 2016, six national institutions that have key roles in early warning in Papua New Guinea signed a Memorandum of Agreement to collaborate for the establishment, capacity building, and sustainable operation of a National Multi-Hazard Early Warning. These institutions are the Department of Mineral Policy and Geohazards Management, National Weather Service, Conservation Environment Protection Authority, Department of Agriculture and Livestock, Climate Change and Development Authority, and National Disaster Center.