A threatening super cyclonic storm and evacuation of over 2 million people in Bangladesh's most at-risk districts in a COVID-19 environment presented a gargantuan challenge to cyclone preparedness and response in Bangladesh. In the 34 Rohingya refugee camps in Cox's Bazar, where about 40,000 people per square kilometer live in bamboo and tarpaulin shacks and where 5 cases of COVID-19 were confirmed, this could spell a disaster.
Cyclone Amphan was formed over the Bay of Bengal on 17 May 2020, with intensity of a severe cyclonic storm in the Saffir-Simpson scale. It strengthened into a super cyclonic storm as it moved toward southwest Bangladesh, but was downgraded into an extremely severe cyclonic storm before its landfall on 20 May 2020 in West Bengal, India.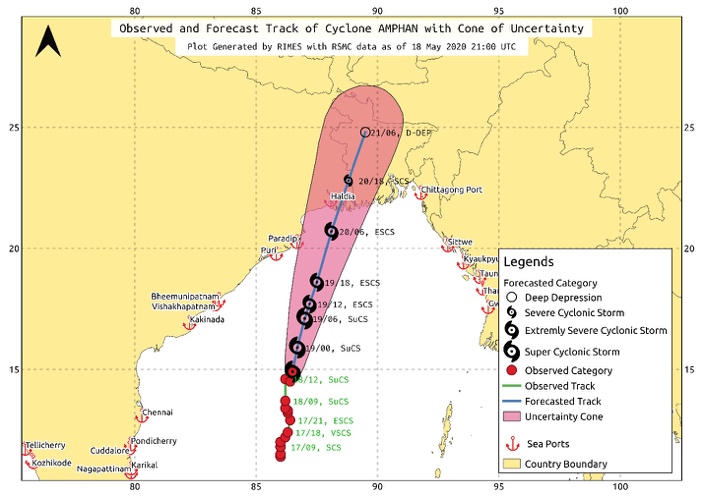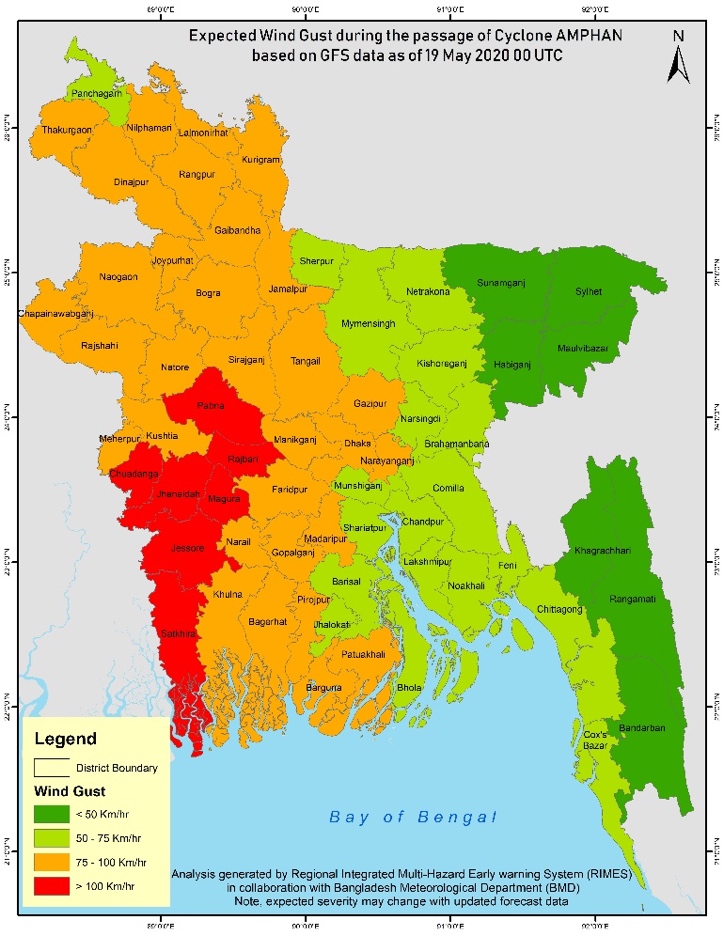 Track forecast on 18 May 2020 at 21:00 UTC (left) and districts at risk to wind gust from Cyclone Amphan (right)
In Cox's Bazar, government, non-government, and UN agencies, including RIMES, worked together to prepare the refugee camps for Cyclone Amphan's impact. RIMES supported the Inter-Sector Coordination Group (ISCG), Emergency Preparedness and Response Working Group, and UN agencies with impact forecasts that were based on Bangladesh Meteorological Department's (BMD) cyclone warning, 3- to 6-hourly severe weather forecasts that included wind gust and storm surge forecasts, and near real-time observation data. The impact forecast information used vivid graphics and explained technical terms to facilitate users' understanding of the cyclone's characteristics and its potential impacts. Contents were tailored according to findings from earlier BMD-RIMES consultation with humanitarian practitioners and disaster managers working in Cox's Bazar. Impact forecasts provided during 17-19 May 2020 informed preparedness activities that included delineation of working areas of various organizations, briefing of Cyclone Preparedness Program (CPP) team leaders, resource allocation, and a high-level meeting for a post-event joint need assessment plan. Thankfully, the track forecast indicated that Cyclone Amphan would not directly impact Cox's Bazar. Rainfall and wind gust forecasts were, however, used along with hazard calendars to analyze secondary impacts at the refugee camp sites, which are prone to flash flood and rainfall-induced landslide.
The impact forecasts were super useful in assessing risks, guiding humanitarian response planning for Cyclone Amphan.
– Carlos Geha, Emergency Preparedness and Response Coordinator, ISCG
The CPP implemented its protocol that was adapted to a COVID-19 environment. This included:
Early warning:
Early warning messages/ advisories shall include COVID-19 prevention and protection messages.
CPP volunteers in charge of early warning dissemination shall wear masks and gloves in addition to raincoats and gumboots. They shall be deployed in small groups (2 to 3 members per team) and should observe social distancing. They should avoid person-to-person contact, and use motorized transport to shorten time for local dissemination.
Evacuation:
Shelter preparation shall consider social distancing measures.
Evacuees shall be requested to carry and wear their own masks.
First aid and primary healthcare:
Healthcare provider must use personal protective equipment and extra caution.
In Cox's Bazar, close to 33,000 people were evacuated. Educational facilities were used to supplement cyclone shelters, to create space for social distancing. Local authorities observed CPP's adapted protocol. Inter-agency collaboration and coordination proved that the battle against impacts of a super cyclone in a COVID-19 environment could be won.