Forecasters and users of seasonal climate information from Bangladesh, Bhutan, India, Maldives, Myanmar, Nepal, Pakistan, and Sri Lanka met from 22-23 April 2019 in Lalitpur, Nepal at the 14th Session of the South Asian Climate Outlook Forum (SASCOF-14) and Climate Services Users Forum (CSUF). Forecasters sought to understand the contexts and requirements of users from the agriculture and water sectors for utilizing seasonal climate outlooks in planning; while users were introduced to the consensus climate outlook for the southwest monsoon season for the South Asian region, and the associated uncertainties in the outlook. Open and country-wise group discussions enhanced forecaster-user interactions at regional and national levels, respectively. Among user demands at the forum are timely update of the seasonal forecast, more user-focused sessions, and increased end-user participation.
The thirty (30) user representatives from twenty-three (23) government, inter-governmental, and non-government organizations, UN agencies, and the private sector were also updated on advances in seasonal climate prediction for improving the resolution and reliability of seasonal climate outlooks, and actively participated in a workshop on enhancing SASCOF products.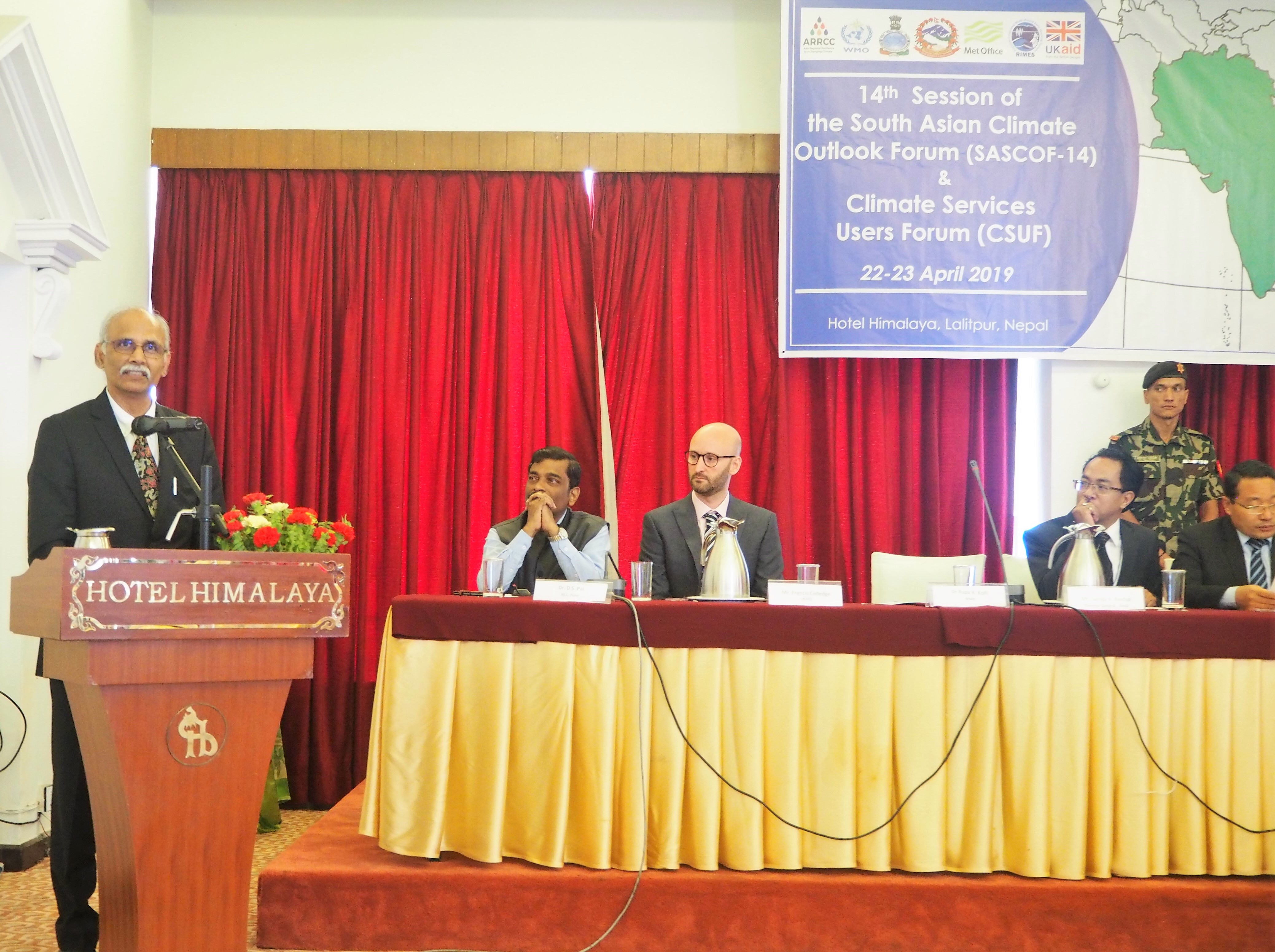 Dr. Rupa Kumar Kolli, Chief, World Climate Application and Services Division of the WMO, welcomed participants to the 14th SASCOF and CSUF.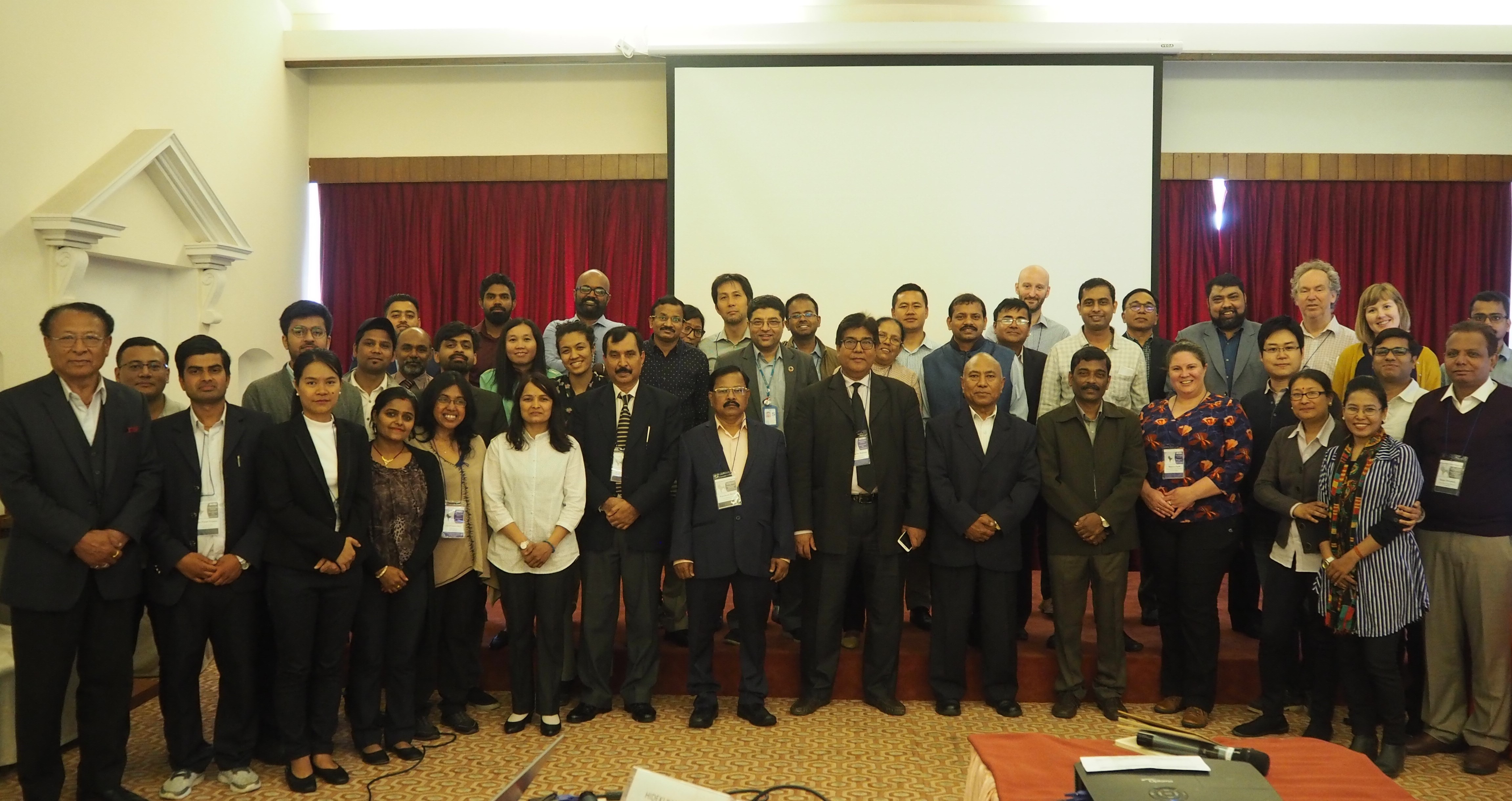 Over 70 representatives from government, inter-governmental, and non-government organizations, UN agencies, and the private sector, including technical specialists from WMO, UKMO, TCC/JMA, RCC-Pune/IMD, and RIMES participated in the 14th SASCOF and CSUF in Nepal.
Before the Forums, nineteen (19) forecasters from National Meteorological and Hydrological Services of the eight (8) participating countries sharpened their skills on the Climate Predictability Tool, through a training workshop from 18-19 April 2019. The workshop also introduced participants to seasonal forecasting tools available from RIMES and from the International Research Institute for Climate and Society (IRI).
On 21 April 2019, participating forecasters prepared the consensus climate outlook, based on the status of climate drivers in the South Asian region and forecasts available from the European Centre for Medium-Range Weather Forecasts (ECMWF), National Centers for Environmental Prediction (NCEP) of the U.S. National Oceanic and Atmospheric Administration (NOAA), U.K. Met Office (UKMO), Tokyo Climate Center (TCC) of Japan Meteorological Administration (JMA), and the Regional Climate Centre-Pune (RCC) of India Meteorological Department (IMD).
The Forums and pre-SASCOF activities were hosted by Nepal's Department of Hydrology and Meteorology (DHM), with funding support from UKMO under the Asia Regional Resilience to a Changing Climate (ARRCC) Programme.  Technical support was provided by the World Meteorological Organization (WMO), UKMO, TCC/JMA, RCC-Pune/IMD, Meteorological Service of Singapore (MSS), and RIMES. 
Photos from the events can be found here.